Well as it seems that here in New England the cold weather isn't leaving us any time soon, the hubster and I bundled up and got in some much needed time at the range!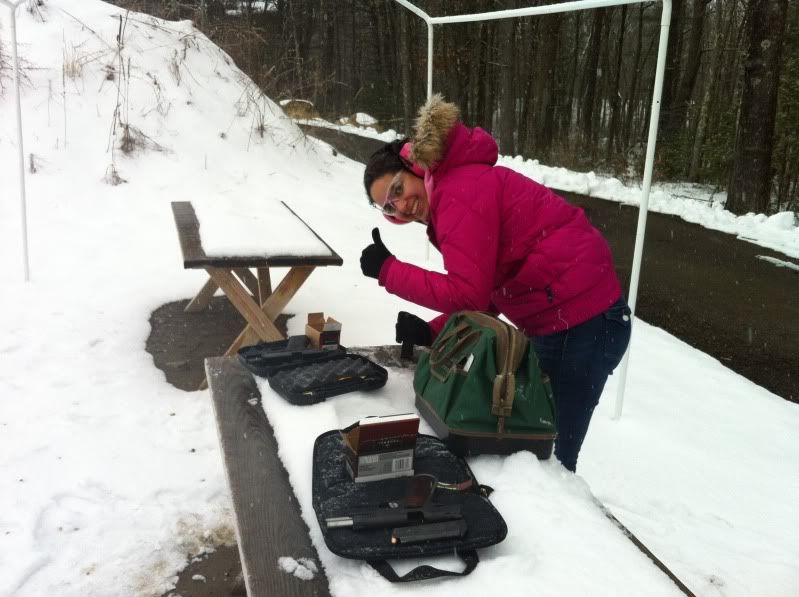 Don't let the cold weather deter you from shooting outdoors! Nothing compares to braving the elements for some high-power fun. Trust me, once you get going you forget all about the cold! But, there's a way to do it right.
1. Dress in layers - Although it may feel freezing when you're walking out the door. You will likely warm up once the shootin' gets goin'! The hubby is a huge fan of long undies when we shoot in the cold.
2. Have the appropriate gear - You don't want to bring your super duper ski gloves to the range. You won't be able to wear them while shooting and taking them on and off will become. Take the time to find a good pair of lightweight cotton or fleece gloves with some kind of grippy material on the fingers/palms.
Of course there are always gloves made specifically for shooting, but sometimes those can come at a premium.
If It's snowing, wear a brimmed cap or a fur trimmed hood, it will help keep the snow out of your face.
Prepare for a possibly muddy situation, don't wear your best boots - they'll probably get ruined.
3. Have the appropriate equipment - Maglula Uplula is your friend! Repeat this mantra over and over!
Maglula is the key to keeping your fingers happy, in any weather really! But in the cold weather, it's truly a life saver.
4. Safety - Don't let the cold weather distract you from practicing proper gun safety. It's easy when, you're cold, to be hasty and try to do things quickly because you might be shivering. This is how mistakes get made. Remember to slow down and pay attention. No matter how warmly you're dressed a day will be easily ruined by unsafe gun handling.
5. Don't forget to have fun!! - Yes it's cold but try to appreciate that you're out in the elements with fresh air on your skin and not in a stuffy, smelly indoor range! (Not that there's anything terribly wrong with that either!)
♥
La Femme